The Prime Package
For the independent walker looking for a little luxury
Cost: NZ$ 895 per person (3days/3nights)
Inclusive of:
One night pre-walk B&B accommodation in Tuatapere at the Last Light Lodge (Twin or Double)

Note: single room supplement of $30 is charged if required for the pre departure stay

Heli-pack your pack (max 10kg) up the hill to Okaka on Day 1.

Note: On day 2 and 3 walkers carry their own pack

Multishare quad accommodation at Okaka and Port Craig Lodges - sheets, duvet and pillow provided
Hot showers tokens and towels provided
A choice of a dehydrated meal pouch or the famous Tuatapere sausage meal for the main meal (self-prepared)
Creamy oats porridge & brown sugar is offered for breakfast each morning
Departs: Any PRIME START dates (Monday and Thursday starting dates) – see Walking Package Calendar
Option available to upgrade to a Private Room (photo below), for an additional $150 per night (Sleeps 2 people in King or Twin Single)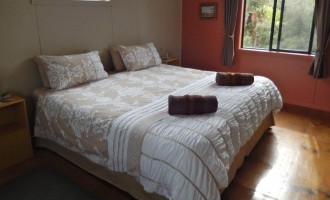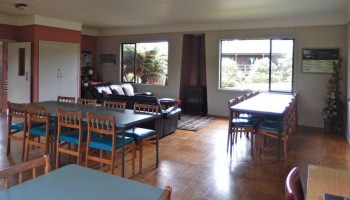 Day 1: Rarakau Car Park to Okaka Lodge
7-9 hours: 22km
Track Transport leaves at 8.00am from Tuatapere to Rarakau. If taking your own vehicle we recommend the same departure time.
From the Rarakau car park head back along the road for 200 m to the start of the track. Walk along cliff tops and descend to Bluecliffs Beach. Cross the swing bridge at the Waikoau River and onto Bluecliffs beach. Follow the beach for 2 km until you come to a rock cliff, where you head up the road to Track Burn which is the 6km mark.
The trail meanders through native bush and across cliff tops before heading out along the magnificent sweep of Bluecliffs Beach where Hectors dolphins may be spotted in the surf. Reentering the bush, the track enters Fiordland National Park and climbs steadily toward Stag Point. Kākā and kākāriki can often be heard and sometimes seen in the forest here.

Stag Point provides trampers with a stunning view out across Te Waewae Bay to Stewart Island. From here it is a short climb to reach the summit ridge and Okaka Lodge. The loop track which circles around the tors and tarns further up the ridge takes about 45 minutes and offers stunning views of southern Fiordland, the Waitutu Forest and the Southern Ocean. The entertaining alpine parrots, kea, are often present in this area.
Day 2: Okaka Lodge to Port Craig Lodge
7-9 hours: 20km
Heading along the summit ridge, the track descends the Hump Ridge and spectacular views are available along the tops. The track eventually reenters the bush and towering rimu, miro rata and totara trees provide a good example of the mixed beech/podocarp forest typical of the Waitutu area. Reaching sea level, pass through private Maori land before crossing historic wooden viaducts. Following the track of an old railway, reach Port Craig Lodge and explore the remnants of the old Port Craig sawmill town. A sheltered sandy bay is five minutes walk from the Lodge. Hector's dolphins are frequent visitors here and occasionally a seal or penguin can be spotted basking on the breakwater.

Day 3: Port Craig Lodge to Rarakau car park
5-7 hours: 20km
The track winds through native bush and over a series of bluffs before crossing the magnificent Blowholes Beach. Follow the south coast, crossing another smaller beach before climbing back to the coastal terrace and past the Okaka track junction. Re-crossing Bluecliffs Beach, the track returns to Rarakau Car Park.
Track transport departs Rarakau Car Park at 2.30pm for Tuatapere.

Optional Upgrades Available
Private Room:
TWIN or KING Room; with sheets, duvets, hot shower tokens and towels included.
+ $150 per room per night. Max 2 persons per room.
Track Transport:
Tuatapere to the start of the track at Rarakau
+ $45 per person - return trip
Please refer to our Transport Schedule for additional transport options.
Modern Backcountry Lodges
Our modern backcountry lodges at Okaka and Port Craig are in superb locations.
At almost 1000m, Okaka Lodge is the highest point on the track. Port Craig Lodge, at sea level, offers trampers the chance to soak weary limbs in the Southern Ocean. During summer season, both lodges are fully equipped with:
All cooking equipment, crockery, cutlery & gas
Solar powered lighting throughout complex
Comfortable multishare rooms
Pillows & pillow slips
Gas Heating in the communal lounge/dining room
Hot porridge for breakfast
Flush toilets & running drinkable water
Lodge managers on duty
Both Okaka and Port Craig Lodge also offer premium upgrade rooms for trampers with a king-sized bed (or two singles), all bedding, linen and towels supplied, and even a hot water bottle.
Each Lodge is fully wheelchair accessible and has been built and are run in conjunction with our commitment to sustainability. Read more about our efforts here.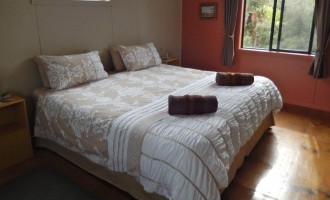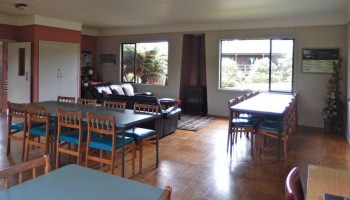 Lodge Bar & Shop
Both Lodges also have a licensed bar and shop where you can buy a range of New Zealand wine and beer, as well as snacks, refreshments and dehydrated meal pouches. We accept both cash and card.
We stock a selection of beers and wines. As our liquor licence is an "on-licence", it is not permitted to "Bring Your Own"; you must purchase all alcoholic beverages from our bar.
Both Lodges hold stocks of the following products for sale:
Beer, wine (red and white), cider, Gin & Tonic, soft drinks

Selection of confectionery and snacks

Complimentary tea and coffee
Please Note: Contents of the shop may change from time to time.
Sorry, we do not have any of the following available
Three point power plugs
Ovens
Microwaves
Refrigeration
Freezer
Port Craig Lodge has a USB charging station available for everyone to use. This facility is not available at Okaka Lodge.

What To Bring
In both lodges, all crockery, cutlery, cooking utensils, pots, pans, gas, tea towels, dishwashing liquid and recycling bins (including food scrap bins) are provided.
All Freedom and Prime walkers are offered creamy oats porridge, cinnamon and brown sugar for breakfast. This is not Gluten Free. Should you require an alternative you will need to self cater. Evening meals are available as per the shop list. (For Prime walkers this is included in your package for the 2 nights on the track). All independent and prime walkers will need to self cater for your lunches.
Guided walkers are fully catered for, for the 3 days and 2 nights on the track.
Click for a downloadable Gear Checklist.
Fitness
The whole idea about tramping is to experience nature, take in the sights and scenery, and to enjoy yourself. It is not a race!

A moderate to high level of fitness is required to complete this walk. To make your trampmore enjoyable it is advisable to undertake some form of training prior to the event. By doing some form of regular exercise beforehand you are going to make your walk around the Hump Ridge track a lot more enjoyable.
Some tips before you start training:
During some of your walks, be sure to wear the clothes that you intend to tramp in. It is best to find out beforehand if they are going to be suitable, ie. non-chafing, comfortable to wear.
Walk in the shoes and socks you are going to tramp in. You need to be wearing shoes that are comfortable and provide good support for the ankles. Blisters can make tramping very unpleasant so it best to have your shoes broken in properly.
Wear your pack during some of your walks. Even if you are making use of the heli-packing you will still have to carry some gear with you. You will enjoy your walk a lot more if your body is used to carrying a pack already.
Hydration and nutrition are very important; your body needs fluids before you are thirsty, so drink regularly. Food such as bananas and muesli bars are good light foods to carry that provide quick energy. Remember to carry your rubbish out with you!
It is important to get some hill training in before the walk. On the first day of the Hump Ridge Track you will go from sea level to 890m. Simple things such as taking the stairs whenever possible can also help. Get off the streets and head into the bush tracks, you will need to experience different walking terrains and don't stay indoors just because the weather may not be ideal for walking. Fiordland is a beautiful place but it cannot always guarantee beautiful weather.
Not all your training needs to be walking, feel free to jump on a bike, use the gym, swim, run or do zumba! Cross training is important to keep yourself from getting bored.

The Fine Print in brief - Cancellations,Transfers and Insurance
If in the very rare event the Operator needs to cancel a departure due to unforeseen circumstances or weather conditions, we will discuss options available and agree with parties concerned. Options may include: another package on the same departure date, alternative departure date, or a refund.

Cancellation
If a client wishes to cancel a booking for any reason, including medical, the cancellation must be forwarded in writing and the following refund values will be applied:
Independent Packages and Events
Prior to 8 weeks of departure date 75% of the total cost;
Within 8 to 4 weeks 50% of the total cost;
Within 4 weeks or less no refund will be given.
Guided Packages
Prior to 8 weeks of departure date 75% of the total cost;
Within 8 to 6 weeks 50% of the total cost;
Within 6 weeks or less no refund will be given.

Transfers
Bookings can be transferred to a future date, within a 12 month period, but not between people. You must give a minimum of 7 days (before your departure date) notice in writing for a transfer to apply. This will be in the form of a credit for the value of the original booking less fees, this will then be held and credited against a new booking at a future date within the valid timeframe. The new booking will be charged at current pricing at that time and is subject to availability. A fee of 10% of the total booking value will be charged on any booking transfer. Bookings may only be transferred once and no portion of the credit is redeemable for cash. If notice is given less than 7 days prior to departure for any circumstances, including medical, you will be required to cancel your booking. Sorry this option is not available for Guided Packages nor Events.

Insurance
We strongly recommend that you arrange travel/cancellation/medical insurance to guard against loss of costs associated with cancellation or delay of your trip. Obtaining all necessary insurances is the responsibility of you the client and the Operator cannot be held liable for any failure on your part to get insurance. The Tuatapere Hump Ridge Track will not be liable for injury, damage or any costs incurred by walkers and customers.
Click for of our full detailed Terms & Conditions.

Customer Declaration Form
In any adventure activity, there is an element of risk involved. Risks in undertaking this activity include personal injury and illness as a result of adverse weather conditions.

All participants, including children, will be required to complete our Customer Declaration form before departure.
This form is available to read and download as Customer Declaration Form: please complete and bring to your pre-departure briefing.

Under New Zealand law it is extremely unlikely that you will be able to sue anyone if you are injured. In addition, New Zealand's accident compensation scheme provides only limited assistance to visitors to New Zealand who are injured. We strongly recommend that all visitors to New Zealand have full insurance covering any injury they might suffer, including medical treatment cover, before undertaking this activity.
We do not recommend the Tuatapere Hump Ridge Track for children under 10 years. Please do not be offended if we ask for proof of age.