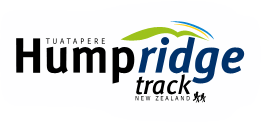 The Hump Ridge Track is a sustainable, responsible and charitable organisation, built and maintained by the Tuatapere community.
Have a browse and learn more about our team, the inspiring story of how we came about and what we believe in.
In March 2012, Tuatapere Hump Track Ltd was awarded Qualmark certification and an Enviro Gold Award. Qualmark accredited activities can be booked or bought with confidence, because they've undergone a detailed onsite quality assessment, and been found to be professional and trustworthy. Qualmark is New Zealand's official mark of quality for tourism.

In 2012 & 2013 we were selected by the NZ Ministry of Environment as finalists in the Green Ribbon Awards, which celebrate excellence in Environmental ethos, initiatives and practices.
The very existence of the track is something quite special, a reflection of Kiwis' love for tramping and the 'can do' attitude of a small rural community. This track was conceived by the local community of Tuatapere and then built with the same pioneering spirit and hard work that built the timber town of Tuatapere itself.
From an idea floated at a Tuatapere Promotions meeting in 1988 a charitable trust was formed to build the track and facilities, raising over three million dollars and obtaining permission from private land owners and the government. The track is now run and maintained by the Tuatapere Hump Track Charitable Trust, whose members are all volunteers from the community with a passion for the Hump Ridge Track and the future well being of the Tuatapere community.
It took locals from 1988 to Dec 2000 to pass through all the red tape and gain the many consents required to build the track but it was opened on November 2nd 2001 by Prime Minister RT Hon Helen Clark. Many community members have donated and continue to donate hundreds of hours to it upkeep and maintenance.
Around 25,000 community volunteer hours went into construction and another 20,000 since it opened for track maintenance. This included building the boardwalk into three metre lengths at a local woolshed during the evenings for 12 months prior to getting the actual construction team in. The track took nine months to build, the construction team included professionals plus locals helping out. Every piece of the 10kms of boardwalk has netting on it, stapled by hand by volunteers.
The Track is still run to benefit the community by the Tuatapere Hump Track Charitable Trust and the need for volunteers on going.

SUSTAINABILITY
Ensure the long term wellbeing of the environment and community
Support the local business community by buying locally and increasing visitor time in Tuatapere

Maintain a strong allegiance to the Sustainable Tourism South project

Uphold a strong proactive approach to the conservation of native flora and fauna

ENJOYMENT
Offer a world class outdoor experience
Offer more people the opportunity to experience our wilderness

Exceed customer expectations

INTEGRITY
Respect our environment, our heritage, our people
Endorse the objectives of Leave No Trace

Promote the history of the area

Provide a positive experience for everyone involved with the Tuatapere Hump Ridge Track